Benefits pros, let us introduce you to Lorna. She recently approached Medicare-eligible age, and as she started the research and enrollment process, she found herself completely stumped. Parts A, B, C and D? A dizzying array of dozens and dozens of plan options? Confusing costs and jargon galore?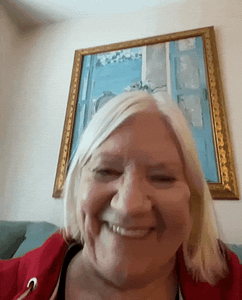 It's enough to throw anyone for a loop, but Lorna knew she had a secret card up her sleeve: her daughter, Amanda, who happens to be the CEO of Jellyvision, a benefits decision support company. Surely together they could figure out the best plan for Lorna's health and financial needs, right? 
Well…not so fast. It turns out that even Amanda, an expert at the top of the healthcare and benefits field, was lost in the jumble of Medicare options. And that's when she knew it was time for something better.
Now, we're proud to introduce ALEX Medicare: a new and improved way to navigate the Medicare maze. We caught up with Jellyvision leaders Dana Hamerschlag, COO, and Alex Mohr, Senior Director of Product and Data, recently to hear more about why now is the time to solve the Medicare puzzle. Here's what they had to say.
Watch the full webinar ALEX Medicare: A better way to navigate the Medicare maze on-demand.
Why is now the time to tackle "the Medicare problem?"
Lorna's not the only one who finds Medicare as clear as mud. In fact, 3 in 4 Medicare beneficiaries find Medicare to be "confusing and difficult to understand." And when Dana and Alex gathered HR and benefits pros to talk more about the current Medicare experience, they told us their employees are lost too: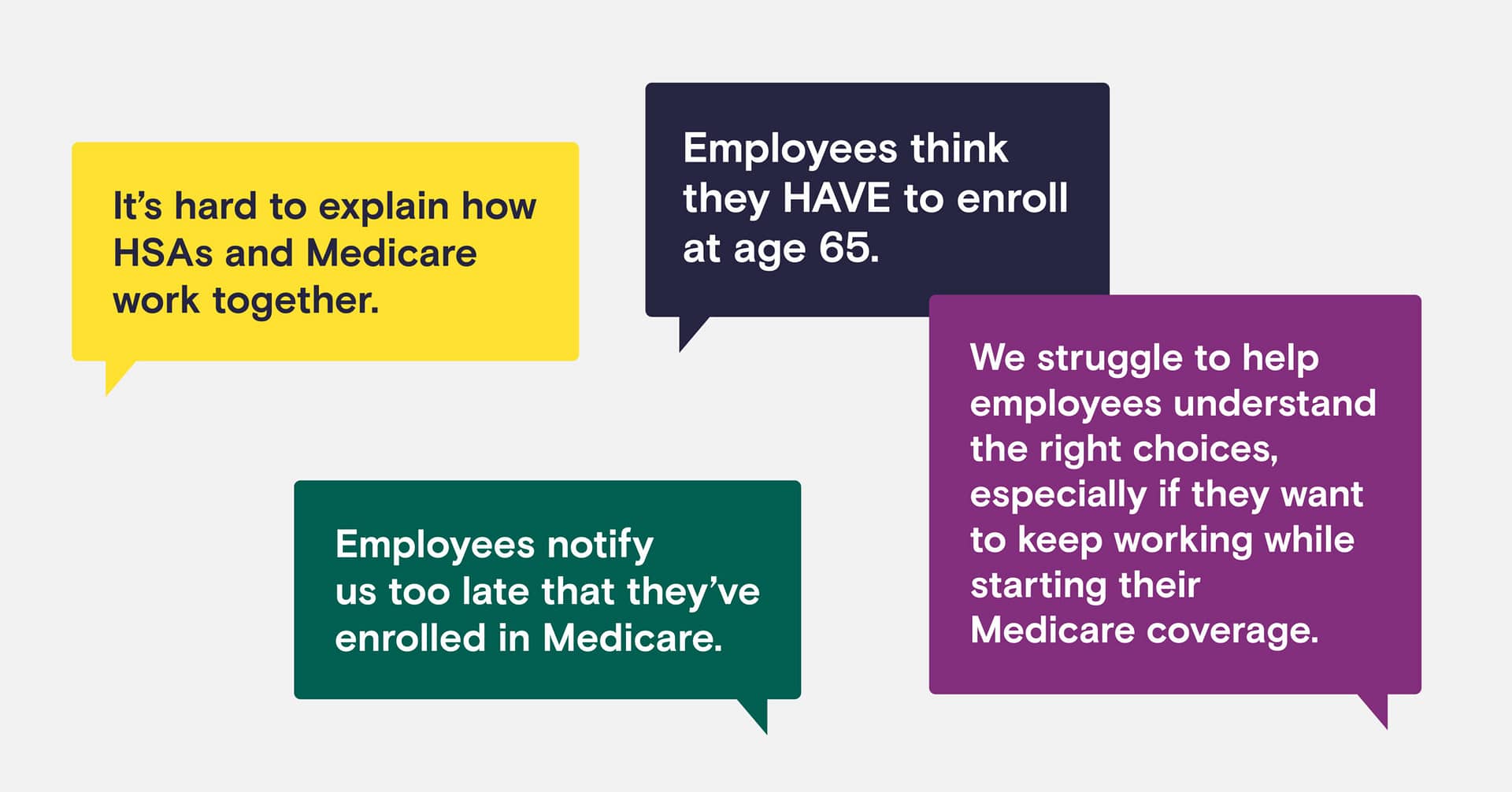 Simply put, Medicare is the last frontier when it comes to benefits education, and we've left eligible employees completely in the dark. That's a huge problem, for a few reasons. First, we have more aging employees in the workforce than ever before:
Employees are living longer and working longer, too. But we haven't traditionally offered benefits education for this older population, who have typically retired before they reach Medicare age. That's no longer the case, and it's time for us to step up and help eligible employees sort through the clutter—because there's a lot:

Another big reason that now's the time for a Medicare intervention? Unfortunately, Medicare-eligible folks are bombarded with a slew of sometimes conflicting and misguided information about the plans they should choose.
"We've heard stories of Medicare-eligible folks who are getting ready to enroll receiving dozens and dozens of phone calls from various marketing organizations offering to assist them, and the amount of confusing and misleading tactics is increasingly widespread."
Some third-party marketing organizations are especially guilty of pushing Medicare guidance on unknowing consumers, and more often than not, they're trying to sell a certain plan with no regard for the customer's real best interests.
Complaints related to Medicare plan marketing in 2021 alone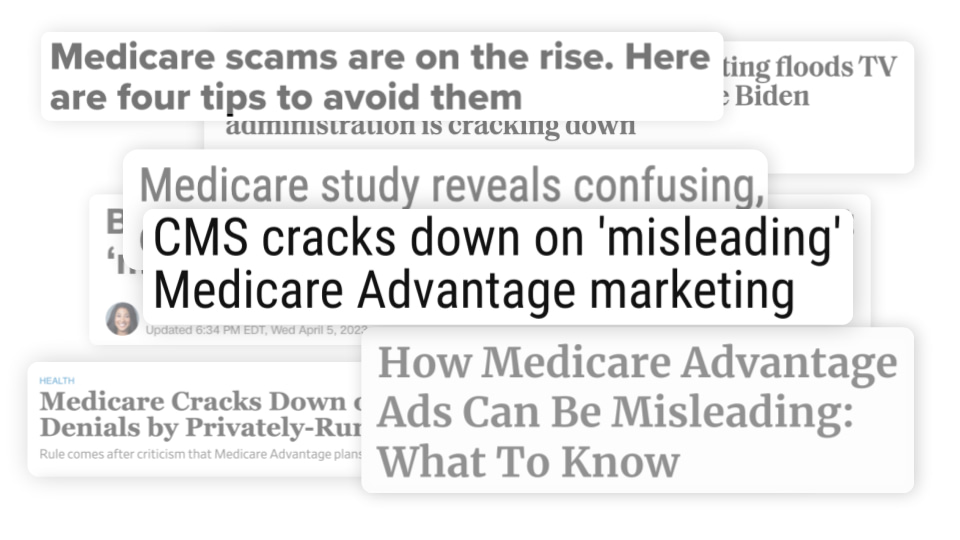 For HR and benefits pros, this is especially alarming. It's hard enough to keep up with changing regulations and educate employees on the most up-to-date resources without having to worry about folks receiving misinformation from sources we can't control.
"There's concern about liability. We all want to provide helpful advice to employees, but we don't want to give false or misleading information. So how are we supposed to know what sources we should and shouldn't share with employees who have questions?"
Help employees navigate the Medicare maze with ALEX Medicare.
How will ALEX Medicare solve the challenges we're facing today? 
ALEX Medicare helps employees navigate the vast sea of information that lives in the Medicare world. It's everything you love about Benefits Counselor, extended to your Medicare-eligible employees. 
Now, your people can have a one-on-one conversation with ALEX to learn about: 
Medicare eligibility and enrollment dates
How Medicare works with Employer Sponsored Insurance (ESI)
Medicare coverage options and costs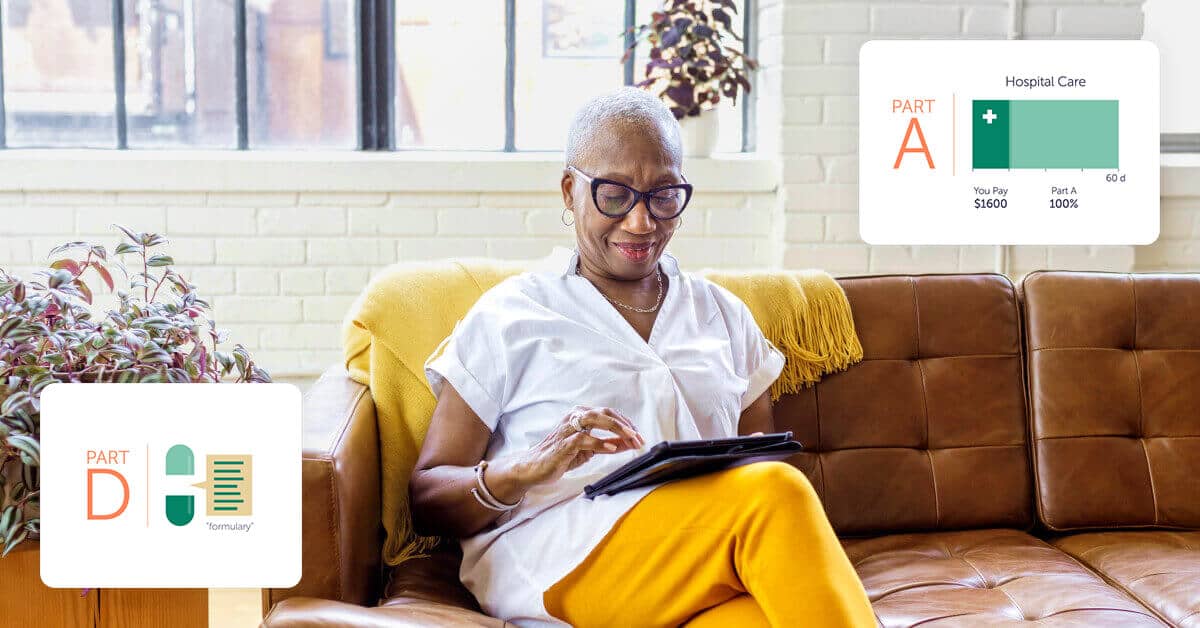 We're especially proud of this new offering—not only because it'll provide better education to millions of eligible folks who deserve better than what they're getting today, but because it combats all of the swirling misinformation around Medicare:
"One of the best parts about ALEX Medicare is that it's completely unbiased. The tool gets to know the user on an individual level, and gives them information that's tailored to them based on their personal situation. The tool is independent of financial incentives, so we don't try to guide the user to one type of plan over another based on what's best for us or the bottom line. We do what's best for the user."
ALEX Medicare asks important health questions to guide the user in the right direction, with a combination of text, video, and images that break down Medicare concepts into easy-to-digest modules.
ALEX Medicare also integrates with ALEX ID, which allows people to save their progress without having to start all over again. That means ALEX can get smarter about an individual employee and their needs over time, and offer more personalized recommendations. 
Where do we go from here?
As Dana and Alex noted during their conversation, this is just the start. There's a whole lot more to improve when it comes to Medicare education and we're just getting started.
"There's more to the Medicare experience than just education. We view this first step as just the tip of the iceberg. Our goal is to build an entire end-to-end system for retirees and other Medicare beneficiaries. And we want to do that in a personalized, scalable way that leverages machine learning to drive recommendations, creating a delightful journey that gets the right people to the right plan."