Yes, it's time to come up with your open enrollment strategy—why not do it while enjoying these tasty grill recipes?
It's summer! That means it's time for sunshine, vacations and…coming up with your strategy for the next open enrollment season? No worries, we've got you covered for all of it with these three spicy, Jellyvision-tested recipes—along with tips for increasing employee benefits engagement next open enrollment, which we unveiled at our on-demand webinar, "The Secret Sauce to Benefits Engagement."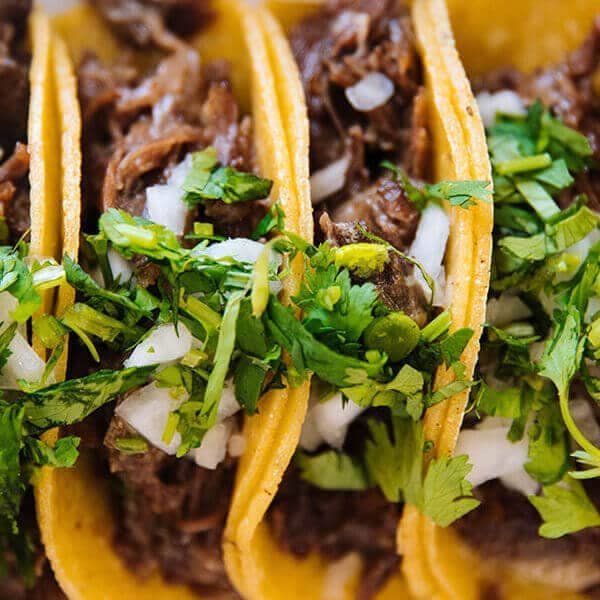 Spicy carne aHSAda
Pairs well with: ALEX HSA


2 limes juiced
4 cloves garlic minced
1/2 cup orange juice
1 cup chopped fresh cilantro
1/2 tsp salt
1/4 tsp black pepper
1 tsp cumin
1/4 tsp paprika
2 tsp chili powder
1/4 cup vegetable oil
1 jalapeno minced
2 TB white vinegar
4-8 dashes hot sauce
2 pounds flank or skirt steak

Optional fixins: sour cream, guacamole, salsa, pico de gallo, cilantro, hot sauce
Instructions:
In a large resealable bag or glassware, combine lime juice, minced garlic, orange juice, cilantro, spices, vegetable oil, jalapeno, hot sauce (to taste) and vinegar. Add the meat and put it in the fridge for a couple of hours to marinate. Slosh it around every so often to get all that spicy, juicy goodness soaked up.
While you're waiting, isn't it time to optimize your organization's HSA strategy? Offering an HDHP with an HSA is a great way to save your employees money and boost your bottom line. But employees are confused by them (only 11% fully understand their HSA and only 6% are investing a portion of their funds). So while that meat is marinating, if you're not seeing HSA activity or your people aren't even contributing enough to cover their deductible, ALEX HSA has you covered.
Phew! Back to grilling. Take the marinated meat out, toss out the excess marinade and throw the meat onto an outdoor grill set to high heat for 7 to 10 minutes, flipping halfway through.
Take it off the grill, let it sit for 10 minutes and slice against the grain. You're done! Serve with warm tortillas and all the fixins you want—sour cream, guacamole, salsa, pico de gallo, cilantro and even more hot sauce, if that's your thing. Serves 4.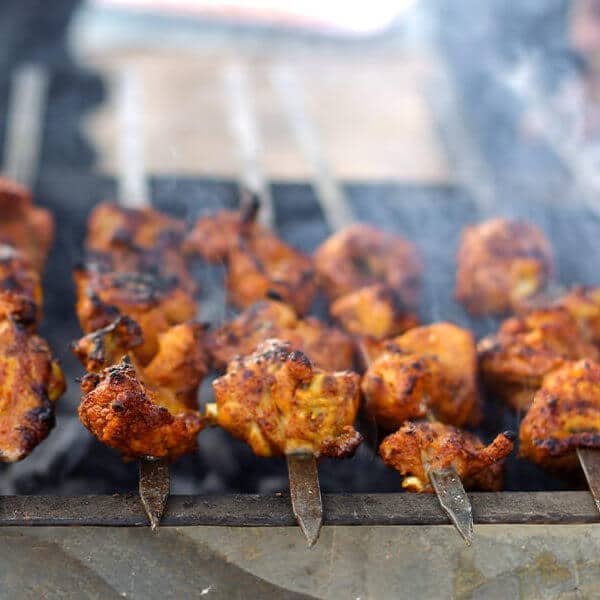 Chatty chicken skewers
Pairs well with: Chat
8 boneless skinless chicken thighs, cut into 6 pieces
1 cup Frank's Red Hot
1/4 cup butter
2 cloves garlic, minced
2 TB hot sauce
1 tsp cayenne pepper
1 tsp smoked chipotle powder
A squirt of honey (optional)
Instructions:
Soak 8 wooden skewers in cold water for at least 30 minutes.
In a small pot, combine the Frank's Red Hot, butter, garlic and honey (if using) and bring to a boil. Reduce the heat and simmer for 1-2 minutes. Whisk in hot sauce and spices, remove from heat and let cool for 15-20 minutes.
Skewers are soaking, sauce is cooling and employees are asking questions about their benefits at all hours. How're you supposed to do your other work, much less get your grill on, when there are so many questions to answer? If this sounds like you, you're in luck— ALEX offers Chat, a smart benefits-focused chatbot that takes common questions off your plate.
Speaking of your plate, it's time to get back to making those skewers. Once your sauce has cooled, pour in about 2/3 of it on your chicken. Mix it up to get those chicken chunks all nice and saucy, then thread them onto your bamboo sticks.
Set your grill to medium-high heat and put the skewers on the grill. Turn them every 2 to 3 minutes and brush some of your leftover buffalo sauce on them if they dry out. Continue grillin' and chillin' until the meat is cooked through in 10-12 minutes.
Put those skewers to a plate, get more of that buffalo sauce on there and add chopped green onions, if you like. Serve with something that feels right, like celery sticks and blue cheese dressing. Somehow these foods have gone together for decades; we don't make the rules, we're just telling you what we've heard.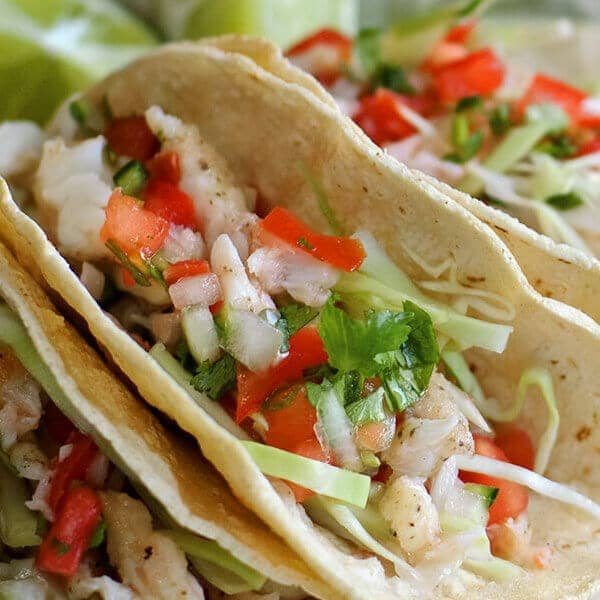 Voluntary bene-fish tacos
Pairs well with: ALEX ID
1 pound lean white fish fillets, such as mahi mahi or cod
1 bell pepper, sliced into chunks
2 TB olive oil
1 lime juiced
1 clove minced garlic
1 1/2 tsp chili powder
1 tsp ground cumin
1/2 tsp paprika
1/4 tsp cayenne
1-4 dashes hot sauce
Flour or corn tortillas


Fish taco sauce:
1/2 cup sour cream or greek yogurt
1/3 cup mayonnaise
1 lime juiced
1/2 tsp garlic powder or 2 cloves garlic minced
1/2 tsp cumin
1/4 tsp salt
1-4 dashes hot sauce

Optional fixins: shredded cabbage, cilantro, chopped or grilled onions, pico de gallo, guacamole, fish taco sauce
Instructions:
Season your fish with salt and pepper on both sides. In a bowl, whisk together the oil, juice of one lime juice, garlic, chili powder, cumin, paprika, cayenne and hot sauce.
Put the fish in a freezer bag or glassware and pour the marinade over it. Let it marinate for about 30 minutes, giving it a good shake partway through.
Make your sauce by whisking together the sour cream or greek yogurt, mayonnaise, juice of one lime, garlic powder or minced garlic, cumin, salt and hot sauce.
Wait for your fish to marinate, preheat your grill to medium-high heat and think about your employees' long-term health and wealth. You know benefits aren't one-size fits all, which is why your employees can create an account in ALEX (also known as ALEX ID) and receive more targeted guidance over time. With their account information saved, ALEX makes more precise recommendations and can continually nudge them towards cost-saving actions. Well, after reading all that, your fish is probably ready, so go ahead and brush your grill grates with oil and grill the fish and bell pepper chunks for about 3-4 minutes per side each side, flipping once.
During the last minute or so of your grill time, get your tortillas ready and warm them on the grill for about 15 seconds per side. 
Take the fish, bell peppers and tortillas off the grill. Let the fish rest a bit before cutting it into chunks.
Serve it all up in warm tortillas with fixins like shredded cabbage, pico de gallo, your fish taco sauce, more hot sauce (!) and anything else your heart desires.