Before the pandemic, telemedicine represented less than 1% of overall healthcare volume, even though 75% of major employers offered telehealth as a benefit. For years, telehealth enrollment numbers have stubbornly failed to grow, despite patients reporting high customer satisfaction ratings from their virtual doctor interactions. In 2019, just 7% of healthcare consumers had used telehealth services in the past year, according to research from J.D. Power.
As the world shut down last year, many companies shifted their focus to telemedicine as a way to help their employees get essential medical care without risking an in-person trip to the doctor's office. While we saw some encouraging progress — the numbers of patients using telehealth rose fourfold to 36% last year—adoption is still short of where we expected it would be.
Instead of opting for telemedicine, many employees simply deferred or canceled their care. As a result, the total cost of healthcare dropped by 40% last year. But that drop is an illusion because the costs of deferred care will add up as untreated conditions worsen over time. For example, the average cost of treating a patient with chronic obstructive pulmonary disease could increase by between 7 and 11%, rising from roughly $38,000 to $41,000 per patient per year. And for patients with diabetes, the average cost of treating a patient may rise by 1 to 4%. 
So why haven't employees adopted telemedicine as enthusiastically as we'd hoped? And how can employers encourage them to enroll?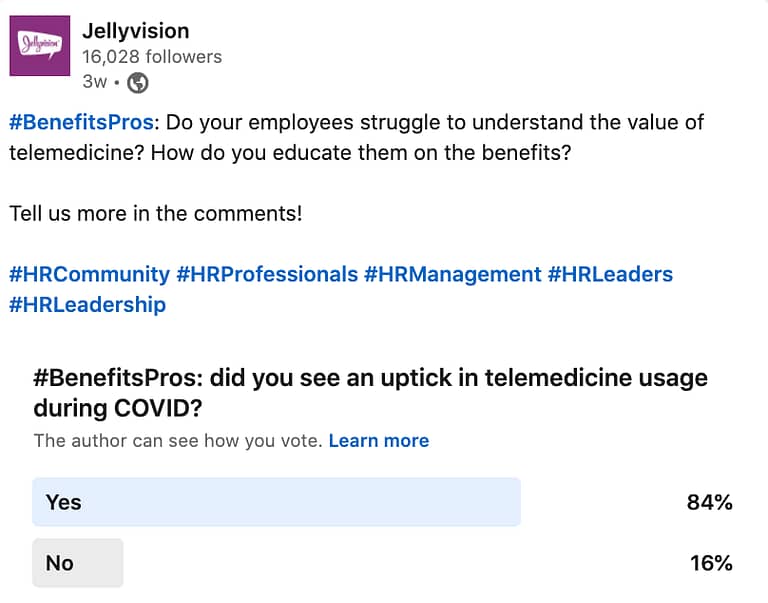 of employers say telemedicine use rose in 2021
say their employees don't understand the value of telemedicine
This failure to inform employees leads to skepticism about whether telemedicine appointments are worth their time and money. Some employees believe that telehealth is just a basic screening, which means they'll then need to schedule a follow-up appointment with their regular doctor. If that is the case, they worry that they'll have to pay two copays, not just one.
How to address this concern: 
Make sure your employees know that they have access to telehealth benefits and what that means. To get them to shift their preference away from the known—in-person doctor visits—you'll need to spell out why they should choose telemedicine, how it benefits them, how it can save them money, and how easy it is to use. For example, when calculating savings, be sure to spell out their potential out-of-pocket costs for in-person visits, including the cost of travel and time on top of their copay.
Make sure your education efforts are year-round—not just during open enrollment. Share information through posters, employee newsletters, and your intranet. Consider adding an online FAQ page that explains how your employees can register for their telehealth benefits and that addresses common employee concerns, such as the types of health issues they can use telemedicine for, the hours the service is available, and the typical costs.
2. Employees are worried about confidentiality
Privacy concerns rank high as an impediment to telemedicine adoption. Given recent high-profile news stories about healthcare data breaches, patients are worried that providers will not use appropriate controls to secure their protected health information that they transmit online.
According to a recent survey,
of employees worry about their privacy when using telemedicine
of employees don't want their healthcare appointment recorded
of employees are worried about sharing health information virtually
How to address this concern: 
Reassure your employees that all telemedicine providers must meet the same strict regulations that their regular doctor does. They must comply with federal laws and regulations, such as the Health Insurance Portability and Accountability Act (HIPAA), and applicable state and local regulations for safeguarding patient data. HIPAA also mandates that telemedicine technology must meet a certain security threshold for compliance.
A helpful step here may be to share details about the safeguards present in your system as well as how to reduce the risks on the employees' end, such as how to look for spoofed messages and how to encrypt their health information.
3. Employees are skeptical about the quality of care
Some employees aren't sure how effective doctors can be in a virtual setting.
of employees said they aren't convinced they could be properly diagnosed or treated via telemedicine
Older people were even more concerned, with 68% of respondents ages 50 to 80 suggesting that the quality of care would be worse than a face-to-face visit. And more than half of healthcare providers have reported that patients refused to complete a virtual appointment because they mistrusted the technology.
Even with high-definition video and connected devices, most people believe they will get better care and a more accurate diagnosis if they see their healthcare provider in person. That's especially true if they need more than an initial consultation or basic care.
They worry that because their doctor or nurse can't touch them, take vital signs like temperature and blood pressure, or listen to their heartbeat or breathing, they may not be able to assess them. And they know that some types of visits just aren't conducive to virtual visits, such as blood tests, imaging tests, and other types of specialized exams.
How to address this concern
Make sure your employees know that telemedicine practitioners are board-certified and licensed physicians. Explain that online doctors are prepared to offer expert advice on any non-emergent medical condition, such as the flu, sinus infections, and skin maladies, as well as offer mental health services, such as treatment for stress and anxiety. They can also prescribe medication and submit the prescription to the employee's pharmacy of choice.
Moreover, just because your employee uses telemedicine doesn't mean they have to give up their primary care physician. They should serve as complements to each other; the telemedicine option just adds care that may be more convenient.
4. Employees are concerned about switching to a new healthcare professional
Most people develop a sense of comfort and familiarity with their doctor over time. Switching to a new provider, therefore, is a source of stress for many employees.
of employees would feel uncomfortable speaking to an unfamiliar provider
Add to this discomfort the fact that it's hard to form a connection with a new provider online. It may feel odd to share very personal details and your innermost worries with a stranger, especially when they aren't in the same room.
How to address this concern:
Focus on convenience. The benefit of knowing a doctor personally may be outweighed by your employees' ability to access a doctor 24/7/365 from the comfort of their home. Telemedicine also makes it easy for employees to see a doctor when it's convenient for them, especially if they can't break away during the workday.
Also let your employees know doctors that will stay on the call as long as it takes to offer care. They won't have to worry about a doctor running late, dodging in and out of their visit to take care of other patients, or rushing to get to their next appointment.
Many telemedicine providers allow patients to choose which doctor to see, so they have the same continuity of care as if they were visiting a doctor in person.


5. Technological barriers make it hard for people to access telemedicine
Access to technology is a final, often difficult, barrier for healthcare providers to surmount. For patients in rural areas and low-income patients, it may be difficult to get reliable internet access.
Older patients may also struggle to understand telemedicine solutions. In one survey of individuals aged 50 to 80, half felt concerned that using telehealth technology would be difficult, and 39% were worried they'd have difficulty seeing or hearing their healthcare professional. Others didn't want the hassle and inconvenience of installing an app or program to use telemedicine.
How to address this concern:
The flexibility of telehealth means employees have access to healthcare through a variety of channels. While video technology makes some appointments easier, telehealth doctors may allow phone calls as well as online chats. Notify employees of their options using various means to make sure you reach everyone. Depending on your workforce, consider emails, text messages, letters, and even keychain cards that contain the provider's information.

How technology can help you overcome these five barriers
Telemedicine can only save you—and your employees—money if your employees know about its benefits and choose to use this benefit.
To make telemedicine more accessible, employers need to do a better job of educating their employees about its benefits. The challenge is convincing more skeptical employees that telehealth is more accessible than ordinary care channels such as their primary care doctor, urgent care clinics, and emergency rooms—and that they'll receive care that's just as good, if not better, than they'd get during an in-person visit.
Technology can help you remind employees of the benefits of telemedicine, especially if it offers messages tailored to individual needs, because different groups will find telehealth appealing for different reasons. For example, millennials may not have a dedicated primary care physician and prefer to do things online, so they'll likely be easier to sell on the benefits of telemedicine than older employees. But if you focus on convenience with older employees who may be managing households or aging parents as well as their own health, they'll be more likely to engage with telemedicine options.
ALEX can encourage your employees to learn more about the benefits of telehealth and answer their questions about your program. For example, when employees chat with ALEX, our platform can offer customized suggestions about how telemedicine might be able to resolve their concerns, helping them—and your bottom line—stay healthier.